JAPANESE YEN PRICE ANALYSIS AND NEWS
Japanese PM Frontrunner Signals Snap Election
Japanese Yen to Maintain 105-107 range
JAPANESE PM FRONTRUNNER SIGNALS SNAP ELECTION
As risk appetite remains soft with US futures on the backfoot, the Japanese Yen is better bid, particularly on the crosses, while USD/JPY trades flat. Overnight, Japanese Cabinet Secretary Suga made his first speech since his announcement to run for LDP Leader, in which the frontrunner signalled that snap elections may be on the horizon for Japan. As it stands, Japanese elections had not been scheduled until next October, however, with Suga pledging to continue Abenomics accompanied by advanced reforms the frontrunner may opt to call an election to solidify his position.
JAPANESE YEN TO MAINTAIN 105-107 RANGE
As Suga looks to carry out more of the same with Abenomics, the Japanese Yen may struggle to break out of its recent 105-107 range in the short-term. Of note, while the beginnings of Abenomics had been bearish on the Yen, the impact has eased in recent times. In turn, the USD/JPY outlook may indeed be dictated by USD dynamics, most notably the upcoming US election.USD/JPY
From a technical standpoint, after four consecutive months of gains, the EUR/USD has stumbled with bulls unable to push through the 1.2000 level. This has allowed for EUR/USD price action to pull back into a key area of support, aided by a Fibonacci retracement level.
The EUR/USD weekly chart below highlights Fibonacci retracements from two major moves. The first Fibonacci retracement (pink) is plotted between January 2017 low and February 2018 high, while the second Fibonacci retracement (blue) represents the more immediate move, between 03 August 2020 (low) to 31 August 2020.
JAPANESE YEN CHART: DAILY TIME FRAME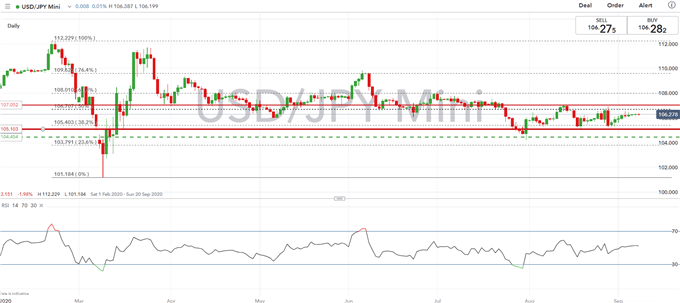 Source: IG
BREXIT RISK PREMIUMS ON THE RISE AS GBP SHORT-DATED VOLS SURGE
A reality check for GBP bulls as no-deal concerns returns to the forefront of investors minds. In turn, GBP has been offered across the board with GBP/JPY making a firm break below 140, eyes are for a test of support at 138.20-30.. As the recent bid in GBP short-dated implied vols gathers momentum, the Pound is likely to remain somewhat choppy in the coming weeks.
British Pound (GBP) Latest: Further Losses Probable, No-Deal Brexit Comes Closer(find out more)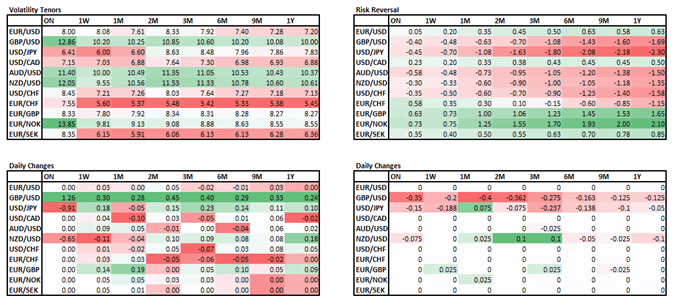 Source: Refinitiv
GBP/JPY CHART: DAILY TIME FRAME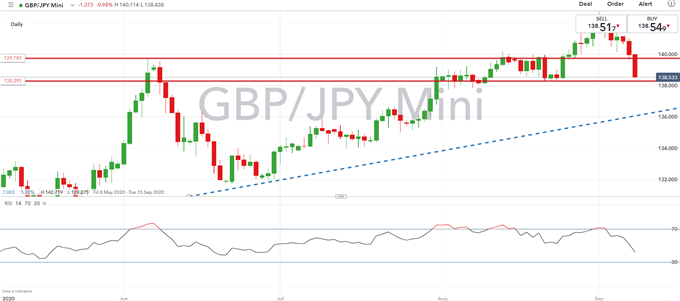 Source: IG
News source: Dailyfx.com>>>