(thecompetenza.com) – COVID-19, does it need an introduction- I bet it doesn't?
A deadly devil virus that came from Wuhan – Corona virus (aka COVID-19) has turned everyone's life upside down. Suddenly life has become something that we never expected. Now, the only way to survive is to be safe, rather than being sorry.
So please ensure the best usage of maintaining social distancing, proper sanitization and using face mask to stay hale & hearty.
How technology is helping people globally
Different types of viruses have attacked the world in the past, but corona virus has crossed hundreds of international boundaries and affected millions of lives. While I am writing this article, the USA tops the list with the highest active cases in the world, and India shockingly stands at the second deadly position.
In the midst of this pandemic, technology has been helping us in preventing, educating and helping to fight back with this dangerous virus.
In a simpler way, technology has been playing a great role by putting up informative videos on video hosting websites like YouTube, making valuable information available on biggest search engine Google and other social media platforms. By using such platforms, everyone can access valuable data or information within a few seconds.
Rapid technology innovation has helped us to live our lives normally. Internet technology is helping millions of people in fighting this deadly virus and bouncing back to normal life.
Let's have a look at some of the most prominent areas where technology is becoming a boon-
1. Online learning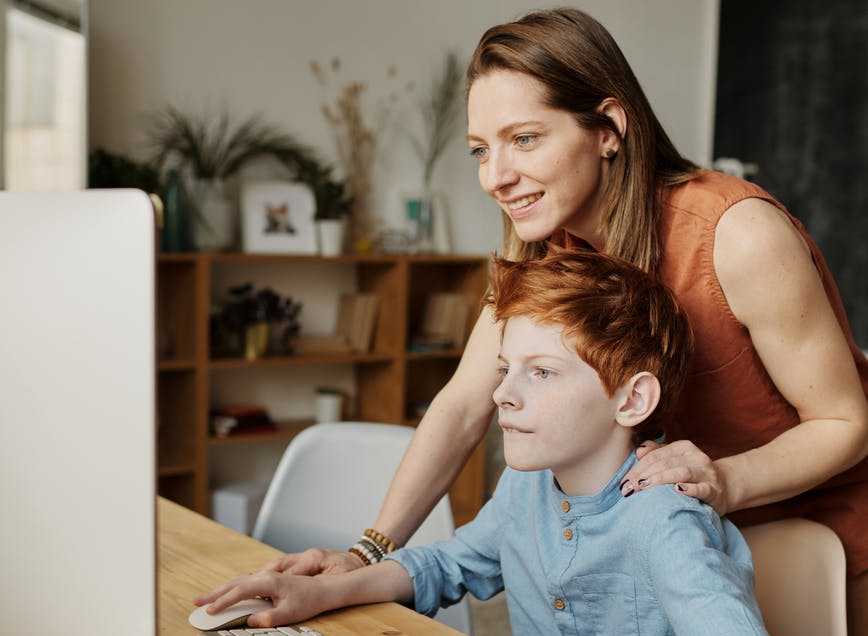 Considering the situation we are living in, reading tons of articles that said keep children away from the digital world has been proved wrong overnight. Due to COVID-19 disease, the education system is hampered to a great extent.
For the last few months, the entire education operation came down to a halt but, thanks to the online technology and good cellular network connectivity, the education system is gaining its pace, and new ways of learning online are coming into existence.
From pre-primary to master level courses, every institution has started following the new ways of online education model. From early morning till noon, students learn online and study conveniently while being at home.
Some institutions upload videos on their websites that can be used by their students, whereas some opt for live virtual classes. With this invention and acceptance from society, it brought many new players in this sector and made their place in the online education system.
2. Work from home
Working from home is relatively new (to a large extent) to India, but this was prevalent worldwide in some sectors. After the pandemic, our workplace has changed from colleagues being around to family being around.
Keeping social distancing with people coming from different areas and locality was the most important thing to prevent coronavirus. As the famous saying goes, every business must go on, and this could be possible only when WFH (Work From Home) was enabled across the globe.
This became achievable only due to invention in internet technology which enhanced the network connectivity across the globe. This helped employers to do what earlier seemed impossible for their business i. e. assigning remote work.
But now the situation is completely changed, technology advancements have made it possible for employees to work remotely with full potential.
Working women are feeling a huge relief as now they can manage their homes as well as work-life with ease. WFH also gave them the leverage of flexible working hours.
3. Online medical consultation
Keeping a safe distance from the symptomatic patients is very important as this deadly virus spreads with touch. The rise in body temperature is one of the major symptoms of COVID-19.
To make the life easier, technology invention brought a contact-less thermometer gun which measures the body temperature without coming in contact with a person. This medical equipment is inordinately helpful at restaurants, airports, gyms, hospitals, trains, shopping malls, offices, and other public places.
Telemedicine has become the best alternative to consult patients online to reduce the influx of patients in hospitals. Several software companies are developing mobile apps that provide online medical consultation with top doctors without leaving home. All you need to do is open the app, select your doctor, and choose the date & time for consultation.
This simple, non-complex process attracted the attention of patients and doctors to a great extent. Doctors are now accessing patient's health online rather than asking them to come physically for check-ups.
Some other medical apps joined the race by delivering medicines right to our doorstep. Consumer-friendly, easy mode of payment, and eye-catching offers made these apps quite popular and helpful.
4. Delivering essential commodities
Before Coronavirus, essential commodities were considered to be purchased from local shops rather than being delivered at your doorstep. Families living in small towns and villages preferred to go to their nearby ration shops to satisfy their monthly requirements.
During this pandemic, when there was a complete lockdown and curfew around the entire nation, things turned around and people started to buy online because that was a safer and convenient option.
Online groceries to food, raw vegetables to milk, everything is now available online and this has become possible with help of growing technology.
Conclusion
As an apt conclusion, it can be stated that technology proved to be of immense worth during this testing COVID-19 crisis. There's no doubt in the fact that coronavirus will surely be a tough challenge to fight back, but with the right mix of technology & taking proper precautions, we hold a strong chance to give it a tough fight, and hopefully knock it down soon.
Thanks for reading the article. Stay connected to our blog for many vital news and updates. If you have any thoughts to share, let me know in the comments section below.