Stock Markets (Mar 09, 2021 05:18AM ET)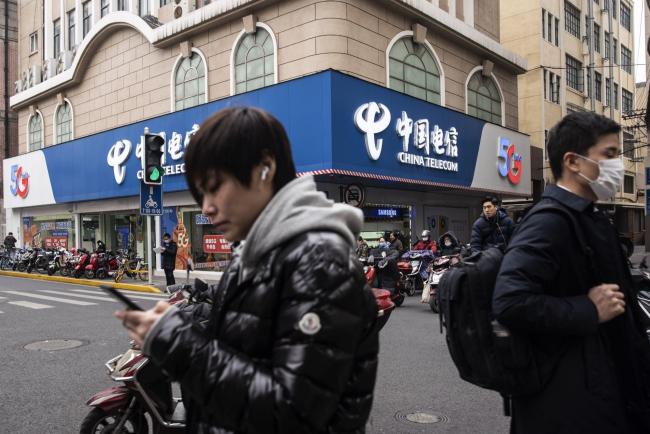 © Bloomberg. Pedestrians walk past a China Telecom Corp. store in Shanghai, China, on Wednesday, Jan. 6, 2021. The New York Stock Exchange is considering reversing course a second time to delist three major Chinese telecommunications firms after conferring further with senior authorities on how to interpret an executive order President Donald Trump issued Nov. 12, according to people familiar with the matter.
(Bloomberg) — China Telecom (NYSE:CHA) is planning a new listing in Shanghai as it seeks a fresh financing channel months after it was pulled off the New York Stock Exchange under an executive order from former U.S. President Donald Trump.
The state-owned wireless carrier will issue as many as 12 billion shares on the mainland China bourse, it said in a statement Tuesday to the Hong Kong stock exchange. The company didn't disclose pricing for the new shares.
The second listing will help China Telecom tap diversified financing channels in both domestic and overseas capital markets, said the statement. The domestic pivot is likely aimed at neutralizing the impact of being delisted in the U.S. along with two other major Chinese telecommunications firms in January, a decision that the firms are appealing.
NYSE's Second-Guessing on China Delistings Sows Confusion
Under Trump, the U.S. sought to sever economic links and deny Chinese firms access to American capital, marking an escalation of the administration's moves over tariffs as part of the trade war.
China Telecom will use the listing proceeds to construct a 5G industrial Internet project and boost its cloud network, according to the statement. The wireless operator reported a net income of 20.9 billion yuan ($3.2 billion) for 2020 on Tuesday, missing analyst estimates. Operating revenue rose 4.7% to a better-than-expected 393.6 billion yuan.
The Shanghai listing plan is subject to approval by the Chinese Securities Regulatory Commission and there is no guarantee that it'll proceed, the company said.
©2021 Bloomberg L.P.China Telecom Plans Shanghai Second Listing After NYSE Setback