Economy (Mar 09, 2021 09:27AM ET)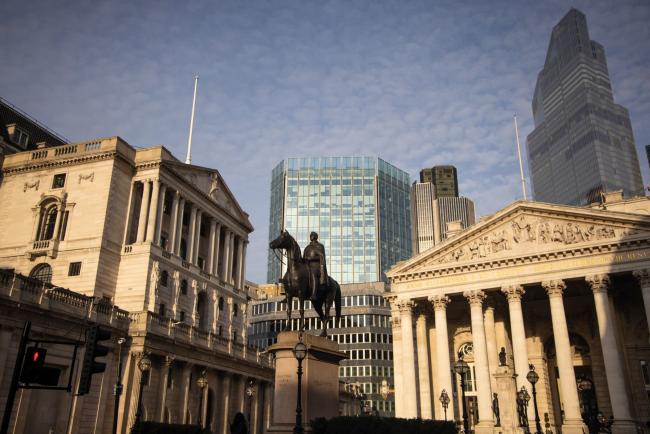 © Bloomberg. The Bank of England, left, and the Royal Exchange in the City of London, U.K., on Monday, March 8, 2021. Values in the U.K. capital should jump about 25% over the next five years, outpacing other European capitals, according to DWS researchers. Photographer: Jason Alden/Bloomberg
(Bloomberg) — The European Central Bank stepped up the pace of its emergency bond-buying last week after policy makers issued repeated warnings that a recent rise in yields threatens to derail the region's economic recovery.
Gross purchases settled under its pandemic emergency program totaled 18.2 billion euros ($21.6 billion) in the week ended March 5, compared with 16.9 billion euros a week a earlier. The ECB also said 6.3 billion euros of debt was redeemed, contributing to the relatively muted pace of net buying reported a day earlier.
Neither set of data reflects orders made Thursday and Friday, as transactions take a couple of days to settle and show up in the central bank's accounts.
German bonds held near the day's highs after the report, with 10-year yields falling five basis points to -0.33%. Those in Italy led the region's gains, narrowing the spread over Germany by three basis points to 101.
The prospects of massive fiscal stimulus in the U.S. set off a global bond sell-off late last month, sparking concern among some euro-area officials that the region won't be able to withstand the tighter financing conditions. The currency union's recovery is expected to be slower than that of many other advanced economies as high infections and slow vaccine roll-outs force longer lockdowns.
The Governing Council will get updated economic projections this week that ECB President Christine Lagarde will unveil on Thursday after its policy meeting. Economists surveyed by Bloomberg expect a downward revision of the 2020 growth forecast, reflecting a weaker-than-expect first quarter.
(Updates with markets in fourth paragraph)
©2021 Bloomberg L.P.ECB Increases Bond Buying After Warnings About Higher Yields