Economic Indicators2 hours ago (May 19, 2021 09:00AM ET)2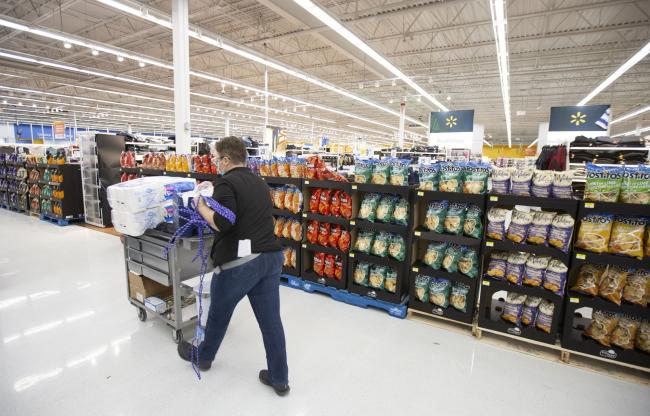 © Bloomberg. A worker wearing a protective mask walks past shelves of snack foods that are blocking access to closed aisles at a Walmart Inc. store in Montreal, Quebec, Canada, on Tuesday, Dec. 29, 2020. New Covid-19 restrictions, which are scheduled to last until Jan. 11, allow stores selling goods deemed essential to stay open while big-box stores must close off areas of their stores that contain non-essential items, the Montreal Gazette reports. Photographer: Christinne Muschi/Bloomberg
(Bloomberg) — Consumer prices in Canada climbed in April at the fastest pace in a decade, beating estimates and potentially fueling concerns that the country is entering a period of persistent inflation.
Annual inflation accelerated to 3.4% in April, compared with 2.2% in March, Statistics Canada reported Wednesday in Ottawa. That beat economist predictions for a 3.2% annual pace. On a monthly basis, inflation rose 0.5% versus the 0.2% economists were expecting.
The annual reading — the highest since May 2011 — may raise some worries that price pressures could be stronger than predicted by the Bank of Canada, which has been cautioning against over-reacting to an inflation spike it expects will be only transitory. If inflation proves more durable, however, that could force the central bank to bring forward interest rate increases that investors aren't anticipating until later next year.
Core inflation — often seen as a better measure of underlying price pressures — rose to 2.1% from 1.9% in March. That's the highest reading since 2012.
The annual CPI reading is distorted because the year-ago period used as comparison coincided with broad demand and price declines at the beginning of the pandemic, a phenomenon known as the base effect. A similar effect also drove inflation higher in the U.S. last month to an annual 4.2% pace. Unlike in the U.S., inflation in Canada is rising at a slower pace because much of the country was still in some form of a Covid-related shutdown last month, stunting demand for goods and services.
Bank of Canada Governor Tiff Macklem had predicted that inflation would rise to about 3% because of these base effects, but he also said he believes that underlying price pressures remain depressed because of continued slack in the economy. In its latest forecasts released last month, the central bank forecast inflation to average 2.9% in the second quarter before returning near its 2% target by the end of the year.
©2021 Bloomberg L.P.Canadian Consumer Prices Climb at Fastest Pace in a Decade2Comments (2)